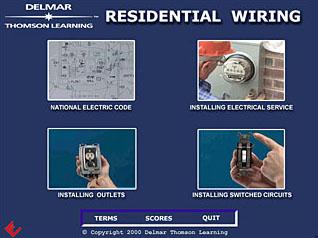 Course Format

Advantage™

Product ID

dlmrrwir

Training Time ?

97 to 143 minutes

Language(s)

English

Video Format

Standard Definition

Devices Supported

Browsers Supported

IE Desktop

Required Plugins

MasteryNet Player

Lesson Interactions

6

Quiz Questions

60

Interactive Producer

Convenience Learning International

Original Content Producer

Cengage Learning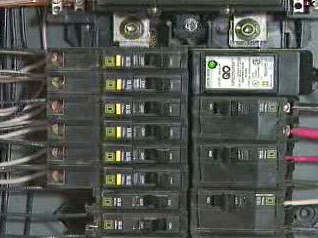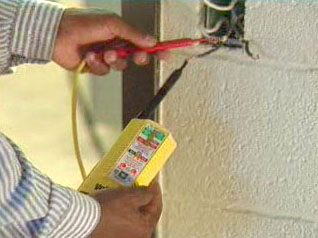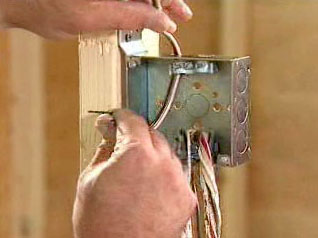 Overview
This training details the National Electrical Code 1996 changes, explains building inspections, service inspection, rough and finished installation, and introduces symbology, wire gauges, and wire color code. It highlights planning the location of service panels and details installation of electric feed from the Electric Company, to the meter base, to the service panel. The various voltage ranges and outlet types are presented and roughing in and finish installation of outlets are detailed. Lastly, the installation of various switches and switched circuits are detailed such as single, three-way, four-way, timer, dimmer, motion and time delay.

This course is in the Advantage™ format, to read about Advantage™ features click here.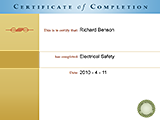 Install on any SCORM LMS
Rich multimedia presentation with interactions and quiz
Print certificate and wallet card
You have 60 days to complete the course
Audience
Training for anyone involved in the installation and repair of household electrical wiring.
Topics
The course presents the following topical areas:
National Electric Code
Installing The Electric Service
Installing Outlets
Installing Switched Circuits
Intended Performance Outcomes
Upon successful completion of this course you will be better prepared to:
Utilize the National Electric Code (NEC).

Identify the purpose of the NEC standard.
Explain the purpose of an ampacity chart.
Identify who is responsible for determining the circuit path of electrical wire.
Be aware of work safety.
Evaluate current carrying capacity.
Recall how electrical wire is graded for size.
Collect the wires of a 14-3 with ground Romex cable.
Choose the grounded or neutral wire.
Explain how grounding is achieved.
Select itmes included in a house electrical plans.
Describe the meaning of curved dash lines on an electical floor plan.
Select a dangerous action when installing or changing electrical devices.
Choose ways to protect people from electrical shock.
Recall what must happen before the electic company can turn on power to a residence.
Choose a material used to insulate electrical wire.
Recognize recommended requirements to follow before beginning work on a circuit.

Properly install electric service.

Choose the amount of volts carried in a hot conductor in a residence's service entrance.
Define a drip loop.
List major components of a service panel.
Define overhead service.
Define a circuit breaker.
Describe the steps to take if a service panel fuse blows after replacing the fuse.
Define a short.
Define a load.
Compose the process when connecting cables to the meter base and service panel.
Describe a ground rod.
List connection requirements of a service panel.
Recognize an example of grounding.
Identify a bonding screw.
Select the variables used to choose the proper type of conduit.
Understand project layout.
Describe importance of torquing the connectors.
Explain why plywood is used between the service panel and basement wall.

Properly install outlets.

Identify who indicates outlet locations on house plans.
Choose the person who designs where the cable runs to electrical devices.
Select the proper maximum distance between outlets in residences.
Recall the maximum circuit load percentage of the circuit rating used to avoid overloads.
Name the items used to weatherproof an outlet.
Describe the purpose of the GFCI outlet.
Demonstrate how to choose the proper electrical box.
Recall safety steps to take before working on an electrical circuit.
Explain how boxes are located and positioned.
Calculate the radius of bends when running a cable.
Choose the proper screw to use when attaching grounding wire to metal boxes.
Choose the proper distance that cables should be secured from framing to steel boxes.
List steps needed prior to installing electrical devices.
Identify the minimum distance to secure cable from framing members to the member.

Properly install switched circuits.

List items that switch circuits can control.
Explain what happens when the switch contacts are in the open position.
Formulate the minimum number of switched circuits in a house.
Choose proper switches for specific items in a residence.
Identify symbols in a schematic.
List components of a 3-way switch circuit.
Select the item used to secure a splice.
Explain the process used when wiring a 4-way switch circuit.
Explain how boxes are located.
Identify the purpose of the yoke on a switch.
Define travelers.
Describe how a 4-way switch gets its name.
© Mastery Technologies, Inc.