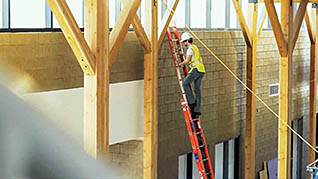 Stay Safe While Working at Heights with Ladder Safety Training
More than 165,000 American workers are hurt in ladder accidents every year. At best, such incidents are inconvenient for both employees and their bosses, and at worst, they can cause serious injury or even death. Avoid lost productivity and expensive workers' compensation claims by proactively providing your team with online ladder safety training.
We offer a variety of online courses to educate workers on how to safely select, inspect and use ladders. We can help ensure your employees are using ladders safely and that your company has achieved OSHA compliance. Whether you are looking for a general safety course or one specific to the construction or maritime industry, we have a cost-effective and user-friendly option to meet your training needs.