I'm trying to login but can't get past the login page.
I enter my user ID into the login box. Click on Login.

I receive the screen to confirm my identity.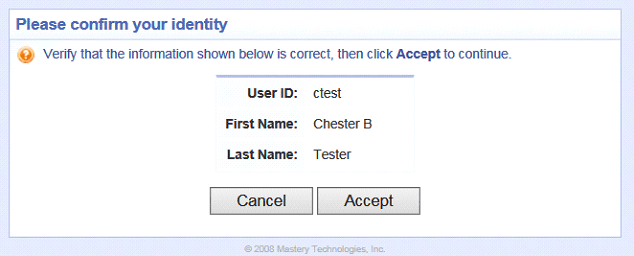 I click on Accept. Then it returns me right back to the "Please enter your login information" screen.

Try closing all instances of the browser you are using. After closing ALL instances of the browser, open a fresh one and try logging in again.
If this does not resolve the issue, try switching to a different browser. Still experiencing the issue, try clearing the browser's history or a complete shutdown (not a restart) of your computer.
---
Advantage Format Course Only
I have an Advantage format course and Video plays without audio
You may need to update the Windows Media Player audio codec below to complete the course.
Some of our courses fail to play the audio tracks with some versions of Windows Media Player.
You need to download and install the Windows Media Player Codec Update using this link:
Audio Update for Windows Media Player
Download the zip file to your desktop.
Double click the zip file to reveal the acelp_for_Vista.exe file.
Double click the .exe file to install the codec update.
You should receive a "Do you want to install the VoiceAge ACELP.net audio codec?" message on your screen during the installation of the update.
If the problem persists there may be another media player (other than Windows Media Player) associated with .mpa, .mpg, .wma, and .wmv file extensions.
Advantage Course Player Download
MasteryNet™ Player
MasteryNet Player Video test file for Advantage format courses
If you don't have video, play this test file to check for proper Media Player installation.
MasteryNet Player test file
MasteryNet Player Audio test file for Advantage format courses
If you don't have audio, play this test file to check for proper Media Player audio installation.
MasteryNet Player audio test file
Minimum system requirements for a Mastery Advantage course
Computer with Windows XP or higher
Internet Explorer 9 or greater (not 64-bit edition)
Windows Media Player 11 or greater
MasteryNet™ Player
Must have .wma and .wmv file extensions associated with Windows Media Player