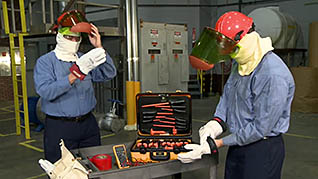 Prevent injuries with the proper PPE
Every day, thousands of employees risk serious injury while on the job. The number of injuries is greatly reduced with Personal Protective Equipment (PPE). PPE ranges from hardhats and safety goggles to specialized respirators. Use these safety training courses to educate employees on the types and functions of PPE, how to wear their PPE and how to maintain and care for PPE.
Courses go over employer and employee responsibilities, as well as information on protective equipment for the head, eyes, hearing, respiratory system, body, and hands and feet. Every workplace and job requires specific PPE based on the hazards present. Use these training courses to understand how to select appropriate equipment and ensure proper usage to keep employees safe on the job.
Course Listing by Topic:
Safety: Eyes, Hands, Head, Hearing, Respiratory (PPE)
Single play retail price is listed, contact us for employer pricing.