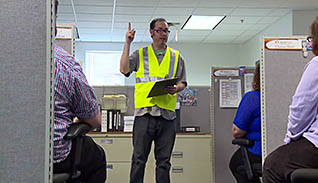 Learn how to help manage safety procedures at your workplace
Accidents happen all the time and can happen to anyone. Understanding the cause of accidents, as well as preventive measures, is critical in preventing future accidents. These safety management courses are ideal for employees who manage others' safety at work.
Safety managers must explore and understand the causes of unintentional acts, as well as explain how their organization can use safety practices to reduce workplace accidents. These courses help you reduce the financial impact of workplace accidents, and help create a safer work environment.
Covering safety topics, including accident investigation, job safety analysis and safety audits, these courses are the perfect training courses for those whose job role requires them to manage the safety of employees. Having employees who know how to identify and respond to accidents leads to much safer and more productive organizations.
Course Listing by Topic:
Management: Safety
Single play retail price is listed, contact us for employer pricing.